WordPress isn't news to web professionals, but some of these stats & facts definitely will be.
Most web developers and other professionals know WordPress as the world's most popular content management system (CMS).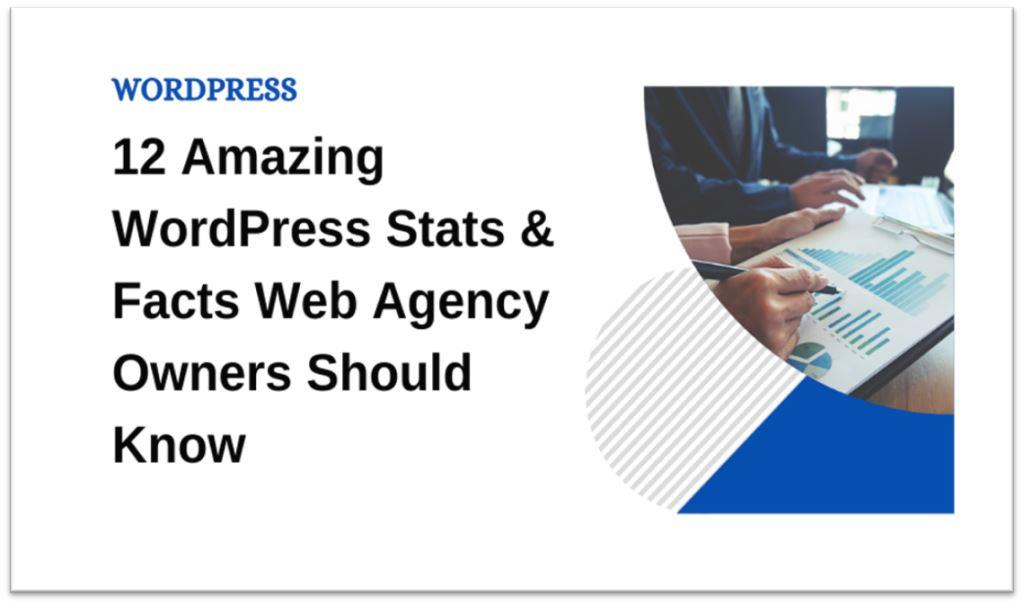 Millions of people use WordPress to communicate with users and customers every day. The platform has changed considerably over nearly two decades, so if you haven't kept up with WordPress, now is your chance to dive into this exciting, successful technology.
12 WordPress Facts for Web Professionals
Whether you're brand-new to WordPress or a veteran developer with years of experience, these 12 WordPress stats & facts will help you make the most of WordPress development tasks for your clients.
1. WordPress has a Bill of Rights
WordPress is 100% free, open-source software. Its founders released it alongside a bill of rights that guides how users interact with the platform even today. These rights include the ability to run the program for any purpose, the freedom to study how it works, the ability to redistribute WordPress technology to new users, and the right to distribute modified copies to anyone.
2. WordPress Releases Updates Every 152 Days, On Average
With an average update time of 152 days, significant changes to WordPress functionality are added about twice a year. Many of these updates fix core security vulnerabilities and address usability issues to make WordPress a more modern environment for today's web professionals.
Popular WordPress releases are named after inspirational jazz musicians. The first update was named after Miles Davis, and the latest WordPress 5.7 release is named after jazz bassist Esperanza Spalding.
3.  WordPress Accounts for More Than 40% of All Websites Online Today
WordPress is the most popular web publishing software in use today. While four of ten are WordPress websites, the CMS's actual market share is closer to 64%. More than 500 WordPress websites launch every single day.
The closest runners-up include Shopify and Joomla, making up less than 10% of all websites and CMS market share. For comparison, only 60-80 Shopify or Squarespace websites launch per day.
4. Almost 85% of WordPress Websites Use the Latest Version
In the past, WordPress website owners were not always up-to-date with the latest releases. This led to security vulnerabilities that damaged WordPress' reputation in the early 2010s.
Since then, WordPress web development professionals have become far more conscientious about updates. WordPress Version 5 makes up the vast majority of WordPress websites currently online. There is still a significant minority of users (about 14%) who have stuck with Version 4 and a much-smaller base of users (around 1%) who still use even earlier versions of the software.
5. WordPress Does More Than Just Blogs
Many web professionals hear "WordPress" and think of blogs. While blogs make up a significant portion of WordPress websites, there are many ways to customize WordPress beyond the standard blogging format.
WordPress is ideal for digital publishers, e-learning professionals, business websites, and e-commerce platforms. You can find notable WordPress users everywhere – from the New York Times to the White House and the Walt Disney Company, and more!
6. WordPress.com Isn't WordPress.org
The difference between WordPress.com and WordPress.org is a point of confusion for many web professionals. The first is a popular blogging platform that uses WordPress. The second is the fully customizable open-source CMS.
With WordPress.com, you don't have to manage updates or backups, but you have to pay for customization options. WordPress.org is an independent service that powers WordPress.com and allows unlimited WordPress access through its open source license agreement.
7. WordPress Releases a New Free Default Theme Every Year
Themes are sets of templates and layouts that define the look and functionality of a WordPress website. Thousands of themes are available on the WordPress platform, but the developers release a single free default theme every year.
8. The Most Popular Paid WordPress Themes Earn Eight-Figure Revenues
Avada is the best-selling theme on the most popular marketplace for paid articles, with 700,000 sales. A regular license price of $60 leads to a lifetime revenue of $42 million – from a single software title!
Theme development is big business. Even WordPress developers who don't reach Avada's level can generate excellent income by releasing high-quality themes.
9. The Most Popular Free Themes Have Millions of Downloads
Astra is the most popular free theme on the WordPress platform, surpassing the one-million mark in 2020. It now has more than a million active users at any given time, which means its user base has grown significantly since then.
Other popular free themes like Hestia have hundreds of thousands of active users. Many WordPress developers create free pieces to attract new business.
10. Best-Selling WordPress Plugins Have Millions of Downloads Too
While WordPress themes are software collections designed to work together, plug-ins generally serve a single purpose. Some of the most popular free plugins have more than 5 million downloads, and popular paid plugins like WP Rocket are at a similar level.
As with themes, many WordPress website development professionals use plugins as a promotional tool to help build awareness of their brand. WordPress plugins can act like a secret sales funnel for technically adept web professionals.
11. There is a Global WordPress Community with Live WordCamp Events
When web professionals hear "WordPress community," they often imagine online forums where developers talk shop and trade technical know-how. They're often surprised to see live WordCamp events with thousands of participants taking place all over the world.
As of 2021, over 1000 WordCamp events have occurred in 65 countries worldwide. There are more than 1500 individual groups with half a million active members participating in WordPress meetups across the globe.
12. WordPress Has Evolved To Meet Modern Cybersecurity Needs
It makes sense that the world's most popular CMS would face the most significant number and frequency of cybersecurity threats. WordPress websites account for nine out of every ten malicious infections on the Internet, according to Sucuri.
However, well-maintained and updated WordPress websites fare very well in today's cybersecurity environment. Around half of the successfully hacked WordPress websites were out of date when attacked.
Make WordPress Your CMS of Choice
Web professionals and digital marketers can achieve more by using WordPress's strengths. Capitalize on the world's most popular website publishing solution and deploy technical solutions to your client's problems while leveraging an intuitive user experience for website visitors.